About the Co-Bear

I found this on my computer desk top. Thought I would add it here since I have started it.

"Colt'en Albert Lance Joined my family on July 12,09 the anniversary of my fathers death. His nicknames to date are Boppy, Jaba the Hut, Cobee, Colby, Co Bear and Bop bop and I am sure more are sure to follow."

Not a whole lot but I wanted to get it in a permanent place. I have trouble staying on target and finishing things.

So more about the Bear. My twitter name was supposed to be joining Taylor and Colt'en's name and ended up missing the a. So its Colty instead of the wanted Coltay. I like it though so not going to change it.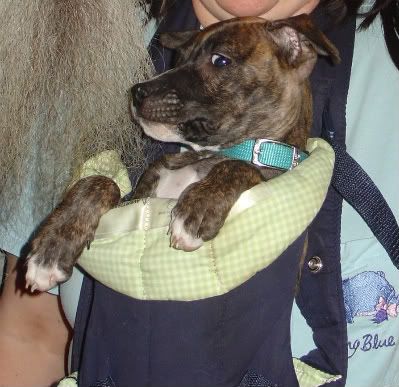 This is a picture of him when he was much smaller not long ago. I carried him in a baby thing so he would bond with me. Although the night I got him, I went to see my "Brother" (which is a friend that calls me his sister) and his wife and new pups. This little guy laid up on the couch by me the whole night. I was drawn to the little girl but knew better then to have two females and my friend pointed out this ones loyalty so I took him. And at the time I had a family living with me that helped out so it was a good situation. Even though my situation has changed, I have had him neutered and he is my boy. I am fighting to keep my family of four fur kids and myself together.

I took some pictures of him and Taylor today. The only ones out of all of us that are photogenic are the cats. Go figure. I wish I had taken more of him when he was tiny because it went by so fast. He is here sleeping by me now.

Oh, More about him. He is always happy. He has what I call the "Tail of Doom" or table sweeper. I am glad he is such a happy guy and I have learned how to grab my pop off the table as soon as I see him coming so its fine by me. He has an old ragged baby toy and yesterday he somehow pulled the cord that is basically severed at the base and the toy started playing music, and he started crying very loudly and running circles around it. When it was done playing he rubbed it all over Taylor as if to tell her about it. It was adorable. He will still cry over it even though I keep making it play to see his antics. He is my little snuggler.

Labels: Colt